Developing New Leaders
Help new leaders transition from contributing individually to achieving results through others.
Developing New Leaders
Strong performers are often promoted to their first management role for superior technical skills and their ability to drive results, but they may not have people or organizational leadership experience. Our Developing New Leaders leadership development program and business simulation enable new leaders to practice leadership skills in a risk-free environment, cultivate their abilities, and develop a perspective that will allow them to drive success. This program is for new leaders with or without direct reports.
In a Developing New Leaders program, leaders learn to:
Deliver results through a team with the mindset of a leader.
Lead members of a team based on their individual needs, while still seeing the big picture.
Engage stakeholders and communicate strategically across the organization.
Develop strategic thinking skills that are applicable to new leaders.
Sample Program Agenda
Developing New Leaders program:
This program can be delivered over four days or four hours, virtually or in person. Whatever your ideal program flow or calendar constraints, a Developing New Leaders program can be customized for your needs.
At Insight Experience, we pride ourselves on our ability to partner and customize our offerings to meet your learning objectives.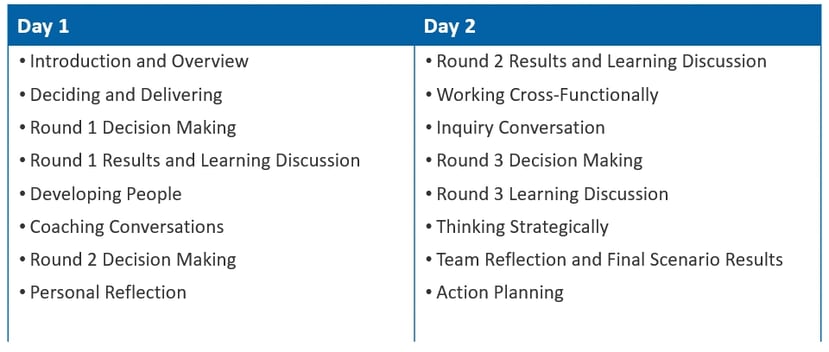 More Resources on Developing New Leaders
Ready to Develop Amazing New Leaders?
We are ready to give your new leaders an immersive learning experience that will prepare them for long-term success.