Executing Strategy
Help your leaders translate strategy, see the big picture, and align their teams to drive success.
Executing Strategy
When strategies fail, it is typically not because of poor design but because they were poorly executed. Our Executing Strategy leadership development program and business simulation provides leaders with the opportunity to develop, practice, and hone the skills needed to execute a strategy successfully. Executing Strategy programs are generally best for mid-level leaders who are responsible for executing strategy but not necessarily setting strategy.
In a Strategy Execution leadership development program, leaders learn to:
Translate a strategy into goals that teams can understand and act upon.
Manage competing priorities and resources to deliver on strategic results.
Communicate strategically for alignment, motivation, and accountability.
Develop teams while executing on strategic initiatives.
Some of our favorite quotes and feedback we've received after a program:
"The simulation was great as it really highlighted the impact of decisions across all levels of the organization from a management perspective."
Manager
Leading financial services firm
"The simulation exercise was a wonderful tool allowing us to compare our initial results and then final results after applying the techniques that we were taught."
Senior Manager
Leading biotech firm
"The software was amazing. I'm not sure I would ever have learned this much had I been shadowing someone in a real business environment. It was incredibly realistic, allowed me to practice skills I didn't know I had, work closely with a team, and experience managing a company."
Physician
Major healthcare provider
"I enjoyed the program — the pace, content, and the collaboration with the team. I've systemized and reinforced my experience with the more theoretical knowledge and got additional insights in the areas that were not my strengths. I found it extremely useful and I will approach building and executing strategies with more confidence."
Manager
Leading financial services firm
Executing Strategy in Action
All of Insight Experiences's Executing Strategy business simulations and leadership development programs are customized to meet the client's learning objectives.
Sample Program Agenda
Executing Strategy leadership development program
This program has been delivered over four weeks or four hours, virtually or in person. Whatever your ideal program flow or calendar constraints, Executing Strategy can work for you.
Our flexible programs can be designed to minimize disruption of your participants' work. We use a variety of techniques and technologies to keep your participants engaged and enthusiastic about learning.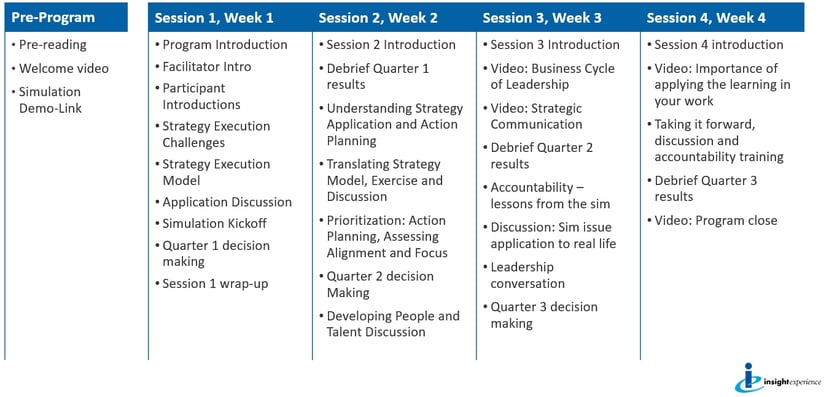 More Executing Strategy Resources
Drive Strategic Results
Are you ready to see how a strategy execution simulation can help your organization?