Improving Business Acumen
Apply business and financial acumen skills to improve decision-making and deliver results.
Business Acumen for Leaders
Our Business Acumen for Leaders approach is rooted in the idea of strategic finance: developing leaders' financial literacy to understand and utilize reports and metrics. These critical core competencies enable data-driven decision-making.
Our Business Acumen leadership development program:
Develops business and financial acumen to help leaders understand how decisions impact profitability, cash flow, and asset utilization.
Teaches why business acumen is important when reviewing key financial reports and metrics, such as the income statement, balance sheet, and cash flow statement.
Identifies and considers critical financial questions that leaders make before making strategic decisions and investment choices.
Applies the output of investment analysis tools and measures to real-life scenarios, utilizing the business acumen skills developed throughout the simulation.
Conveys an understanding of how leadership and financial decisions impact shareholder value.
"Financial results are the outcome of great leadership."
Dealer Management Simulation
Dealership-based leaders must understand financial concepts, the execution of dealer strategies and plans, and the honing of leadership skills that are needed to improve dealership performance.
In the Dealer Management Simulation, leaders learn how to:
Improve dealership profitability.
Better manage and utilize dealership assets.
Increase dealership cash flow.
Use key financial metrics to monitor and manage results.
Use financial analysis tools to recommend investments for their dealerships.
Increase their leadership impact to increase employee engagement.
Increase shareholder value for their dealerships.
Sample Program Agenda
Dealer Management Simulation Program
This leadership development program can be delivered over multiple consecutive days or split into smaller, intensive sessions. Whether virtually or in a traditional classroom setting, business acumen is a critical skill. At Insight Experience, programs can be customized to fit your business challenges and learning needs. We pride ourselves on our ability to partner and customize our offerings to meet your learning objectives.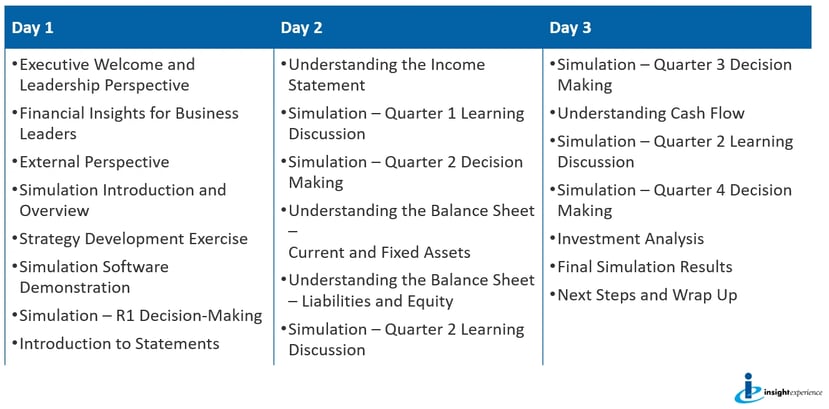 More Resources to Improve Business Acumen
Some of our favorite quotes and feedback we've received after a program:
"Excellent. The simulation was very powerful. Allows you to 'live in the balcony.'"
Manager
Major enterprise software company
"It's always a challenge to find time for personal development. This 3 days ranks as the most productive and valuable time spent in training in over 40 years in the business."
Manager
Global manufacturing firm
Need a Deeper Understanding of Financial Concepts and Tools?
Find out how our business acumen simulations can give your leaders the financial skills and knowledge necessary to take your company to the next level of success.