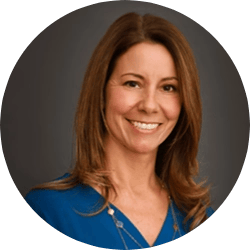 Karen Maxwell Powell
General Manager
Karen Maxwell Powell is a leadership development professional with 25 years of experience in experiential learning and business simulation design and development. She has worked with both domestic and international clients across several industries, including telecommunications, consumer products, technology, retail, and pharmaceuticals. Karen brings business acumen, creativity, and strong interpersonal skills to the delivery of engaging and results-driven learning experiences, including at four programs that have won the prestigious Brandon Hall Award of Excellence. As General Manager of Insight Experience, Karen is responsible for creating a positive organizational culture, shaping client experiences, and delivering financial and operational results.
Previously, Karen was the Product Manager of bain.com at Bain & Company, an assistant professor of business at Bristol Community College, and a Key Account Director at Executive Perspectives. She earned a B.A. in Economics and International Studies and an MBA at Bentley University.
Simulation-Based Leadership Development
A simulation designed by our team teaches your leaders the skills, mindset and knowledge they need to achieve your organizational goals.