Leading Organizations
Expand and deepen your leaders' skills to lead complex organizations and deliver results.
Leading Organizations
Leading an organization means helping teams and businesses thrive — and that is tougher today than it's ever been. Designed for senior leaders and executives, a Leading Organizations leadership development program targets leadership skills and mindsets that enable leaders to confidently set direction, engage employees, make decisions, and tackle workplace challenges. Leading Organizations skills are best developed through practice and feedback from a business simulation.
In our Leading Organizations experiences, leaders learn to:
Run a multifunction business, hands on, and achieve strong results through enhanced financial acumen and people management skills.
Improve employee engagement and performance through priority-setting, tone, content of communication, and strategic allocation of their own time across competing business needs.
Make operational and organizational decisions that improve customer satisfaction as well as the business's bottom line.
Work collaboratively with other leaders and give meaningful feedback that enhances their skills, as well as the performance of others.
Foster cross-team collaboration and respond effectively to crisis and unexpected change.
Some of our favorite quotes and feedback we've received after a program:
"Learned hands on leadership and team discussion tools that I can apply to real life situations. Strong self awareness realization and now have opportunity to improve my ability to develop others. Appreciation for listening and scanning and collecting data from 'pools' before always trying to take action on my own."
Manager
Leading worldwide recruitment and staffing agency
"It was challenging, enlightening and fun. I am delighted that we were given the tools and learning to be able work as effective team members — and I saw growth in every member of our group."
Manager
Research and science organization
"Fantastic insight into my own skills & development needs at the same time learning some new tools & models I can apply in my role & life; the business simulation tested business acumen, strategic thinking and teamwork."
Manager
Leading medical device company
Our Perspective on Leading Organizations
Sample Program Agenda
Leading Organizations Program
Leading Organizations can be delivered across multiple sessions in a window as short as a few days or as wide a time frame as several months. It depends on your objectives and preferences.
Whether taught virtually or in a traditional classroom setting, Leading Organizations is customized to fit your specific needs. At Insight Experience, we pride ourselves on our ability to partner and customize our offerings to meet your learning objectives.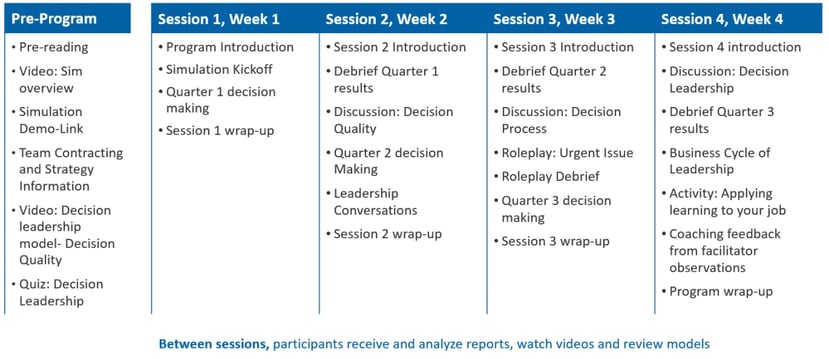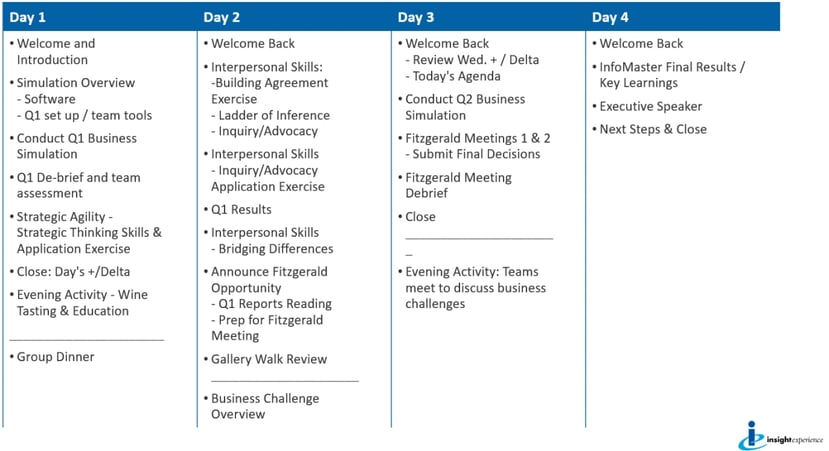 Seeking to Develop Your Company's Organizational Leadership?
Our simulations enable your leaders to learn quickly, experience the results firsthand, and rapidly apply their insights back on the job.